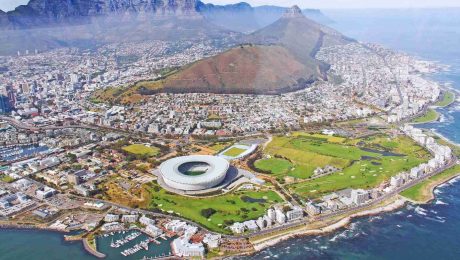 Few countries in the world can offer the diversity of wildlife and culture that travelling in South Africa allows. The southernmost country in the African continent and with a population of almost 60 million people, South Africa has something to satisfy any type of traveller.
South Africa Safari
A safari to South Africa is the most common type of holiday to the country. As safari destinations go, South Africa has it all and the country offers visitors the 'big five'. These are the lion, leopard, rhinoceros, elephant and Cape buffalo. Many of the lodges in South Africa allow you the chance to view these five iconic species but being wildlife, nothing is ever guaranteed.
It is said that the term "Big Five" comes from the old safari hunting days. Many people assume that the name is derived from the size of the animals but this is not true. Rather, these five animals proved to be the most difficult to hunt. These days the hunting is done with cameras and zoom lens.
When considering the different lodges and regions for your safari to South Africa, whether the lodge offers the Big Five is a major consideration. Do not just use these criteria though. Certain areas are much better for rhino. Kruger National Park, and specifically Southern Kruger, is renowned for white rhino. In fact, this park has the largest population of rhino in Africa. Consider what you want to view as this will then direct where you will be travelling in South Africa.
Make a list of the animals and rate them in order of preference. You can then check off what lodges and parks will best meet your needs. A safari to South Africa is often a once in a lifetime experience, so make sure you plan what you want to do.
There are many local tour operators that will gladly share their experience and expertise with you. Many of these local safari operators will be based in the National Parks or at the safari lodges, so have excellent first-hand knowledge of the area. They can also tell you the best time of year to travel and what the wildlife viewing will be like then. Of course, at Our Local Tour, our local travel experts can assist you with this process.
There is more to travelling in South Africa than a Big Five safari. South Africa has a vibrant food and drink scene and a rich and disturbing history to explore.
The Garden Route
For a first time traveller to South Africa, the Garden route is the ideal introduction. Travelling from Cape Town in the west to Port Elizabeth in the east this is a popular self-drive holiday. As well as self-drive, there are bus companies offering regular services along the route and many and shop in quaint towns. Sample fresh oysters or if you are lucky you may get to watch southern right whales at play.
The adventurous can take a boat trip and dive with the mighty Great White shark off the coast of Gansbaai.  The Garden route is a great introduction to the country and should be seriously considered by anyone looking at travelling in South Africa.
South African wines are famous throughout the world. For those more interested in the food and drink of the country, then the South African wine lands should be your first port of call. Jump in a car or take an escorted tour just one hour east of Cape Town and you are in South Africa's Winelands. The town names here read like a 'best of' wine collection; Franschhoek, Stellenbosch and Paarl create a holy trinity of wine producing regions for you to explore.
There is a wide selection of vineyards here offering guided tours from boutique wineries to sprawling estates. Many of these also offer a wine tasting and food pairing experience with onsite restaurants offering the best of South African produce.  If you like to burn off a few of the calories as you are going, then there choose to tour the winelands on bike! Indulge your taste buds with extraordinary tastings and wine pairings and enjoy the beauty of the sprawling vineyards as you pedal your way between farms.
South African History Tours
Travelling in South Africa you will find that the history of the country is hard to miss. The must visit locations such as Robin Island are still raw with the recent past. Led by a local resident, take a tour in one of the townships. They will help you understand the history of the people and you will be supporting people who are seeking to create real change.
Heading further back in history, explore the Zulu battlefields and the infamous Rorke's Drift. Enhance your experience and bring these historical sites to life by taking a tour led by a local historian. Standing on the wide open plains you can imagine the sight of thousands of Zulu warriors bearing down on your position. The heroic defence of Rorke's Drift Mission Station was preceded by the massacre at Isandlwana and this is depicted in the film Zulu Dawn starring Burt Lancaster and Peter O'Toole as Lord Chelmsford.
If you plan to continue travelling in South Africa, then leave the plains behind, and head to the coast and the city of Durban. The third most populous city in South Africa, Durban is often referred to as South Africa's Miami Beach. Relax on the beach, enjoy shopping in the many malls or take part in the many activities available locally.
A safari to South Africa is most people main reason for visiting the country but there is so much more to see and do. Contact Our Local Tour who can help you plan and offer you insights and ideas you would never normally consider.
Wednesday, 15 September 2021
Active Holidays and Tours
One of the most popular forms of travel is now the Active Holidays section. If you are one of those people who cannot just spend their days laid out on the beach, then you are certainly not alone. There is a growing market for holidays that get you up and about, from horse riding on the plains of Mongolia to yoga with a guru on the banks of the Ganges and everything else in between.
Here we list some of the most popular types of active holidays as well as some of the less well known options that you may not have heard about.
Hiking, Walking and Trekking Holidays
When you ask about the different types of active holidays, these are what most people instantly think of. Even within this sub-section of the genre, there are many different types of hikes, walks and treks to consider. From companies that offer you the chance to climb Mount Everest, to 'slow holidays' that take you on walking trips through beautiful French countryside, there will be a hiking, walking or trekking holiday for you.
Cycling Holidays
You can take a cycling holiday in almost any country in the world. It can be as simple as jumping on your bike and setting off from home or you can join a group as they travel Africa from north to south. To make things as easy as possible, tour operators can arrange local bike hire, overnight accommodation and even your food and drink stops along the way. Many will accompany you with a back up vehicle in case of puncture or fatigue. Guided and self guided tours are available as are road cycling and mountain biking focussed tours. Whether you are a keen cyclist or just like the idea of exploring on two wheels, then a cycling holiday may be just what you need.
Cultural Holidays
Have you ever been to a famous site but really wanted to know more about it? If so, a cultural holiday is what you need. Often accompanied by a specialist guide, you can explore ancient monuments, interact with local tribes or attend the opera at a famous opera house. Specialist local knowledge is often vital in creating these types of active holidays. Knowing when a local festival is taking place, how to get tickets for the hottest show in town and what the best local restaurant is to try that speciality you wanted, is what local tour operators do best. There are also various different ways you can take you cultural holiday. Private tailor-made holidays can give you the most exclusive and personal experiences, whilst travelling with a small group of like minded travellers, means that you may make friends for life. Just ask your local operator what they can do for you or check with our experienced team.
Winter Sports Holidays
One of the original 'active holidays', skiing is more popular than ever. For those with a thirst for the slopes and an unlimited budget, you can ski all year round. From the famous European resorts in the Alps to the southern hemisphere and Queenstown in New Zealand as well as the north American playgrounds, there is always somewhere you can ski. For newcomers, the sport can seem intimidating but there are many excellent operators who will advise you on the best places to learn as well as book you the lessons needed to get started.
Skiing is not the only winter sport holiday. Snowboarding is similar to skiing but you may also want to try alpine skiing, snow shoeing , dog sledding, ski biking and for the bravest of you, how about winter swimming!
Food and Drink Holidays
Spend time on a vineyard in France or learn to cook Vietnamese food in Hanoi. The wide range of food and drink holidays you can now take are a growing part of the active holidays market. Small local businesses in Italy are offering you the chance to learn to make pasta from an original family recipe. Stay in the courtyard of an ancient Belgium brewery as you learn the skills needed to brew your own perfect pint. To get the most out of this type of break, you need to make sure that you are learning directly from a local. Beware though. In recent times more 'corporate' events and activities have started to spring up, fitting as many people as possible into a sterile and uniform event prepared just for tourists.
Family Adventure Holidays
If you and the kids are bored after a couple of days by the pool, then you need to look at a family adventure holiday. Designed specifically for families, these holidays encompass the whole of the active holidays market, but adapt the overall experience to be suitable for families. As well as family holidays, you can choose to travel in groups with other like minded families or have the trip tailor-made to your own specification. Most family adventure tour operators are very specialist and have dedicated staff that look specifically after this market.
This is just a brief rundown of the various types of active holidays you can take. Search our Our Local Tour by activity to see if there is something active that you can do on your next trip. Alternatively, get in touch and speak to one of our team about the options available for you.